It's a simple fact of life that docks, piers, floating walkways, and boat slips will all deteriorate over time. The constant exposure to the elements of the lake environment will always win in the end, but if you act sooner rather than later you'll be able to save a great deal of time and money through dock & pier renovation rather than having to completely replace your dock and pier.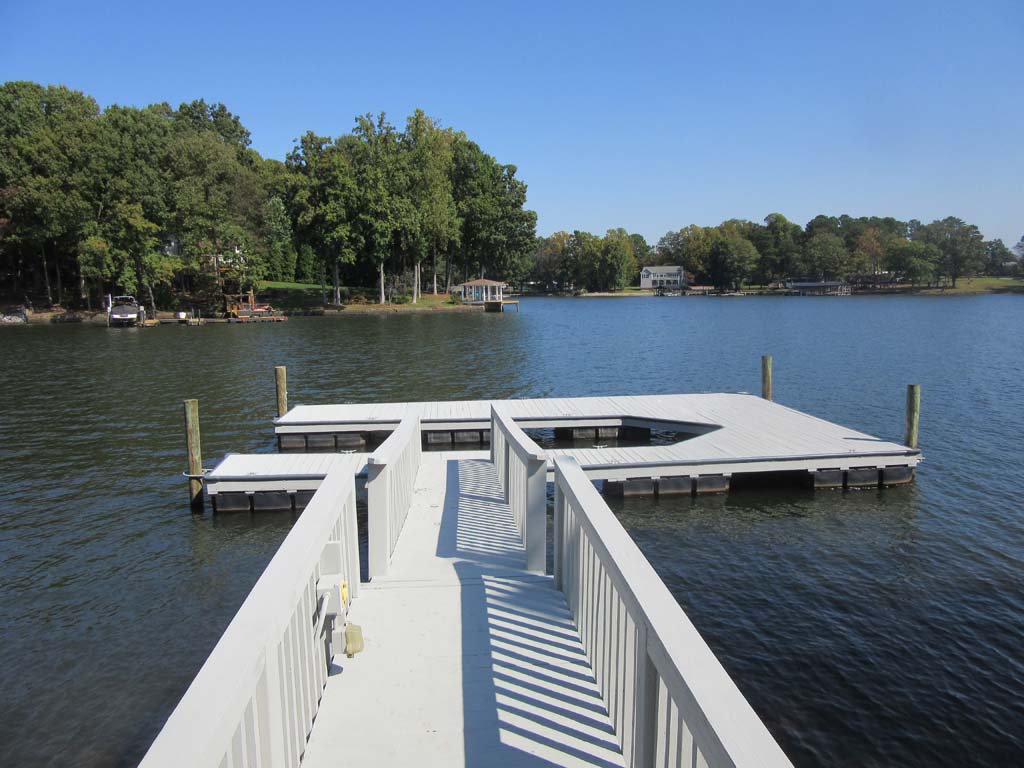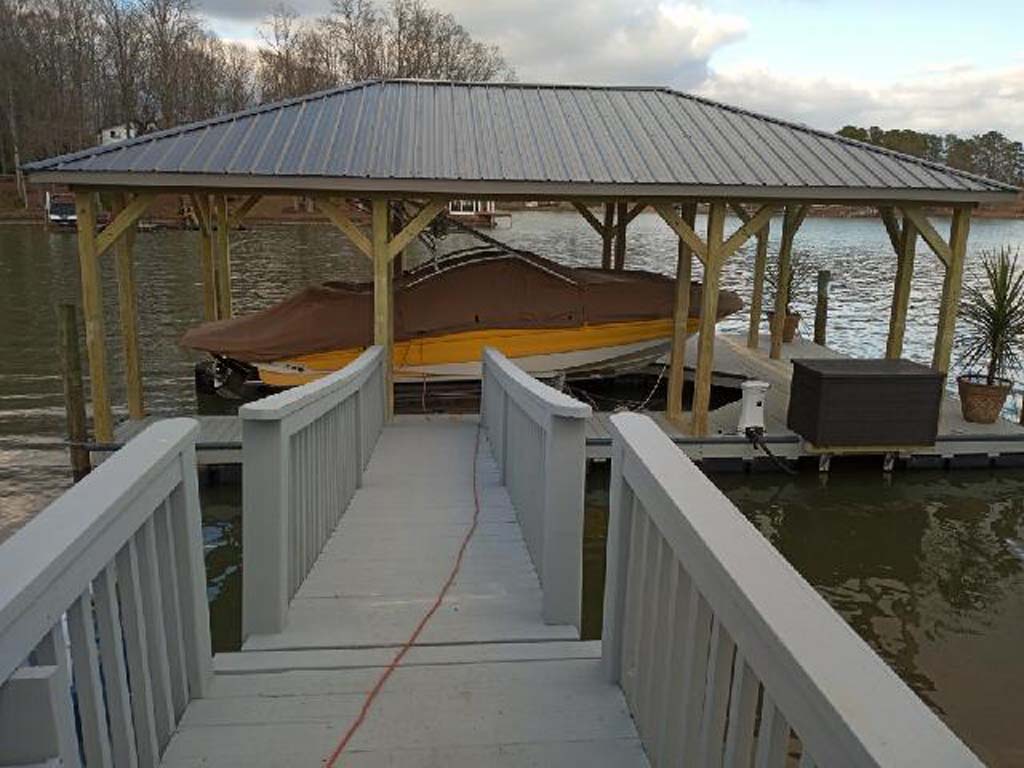 Decking and Handrail Replacement
Typically dock handrail and decking need replacing 2 to 3 times before the frame and pilings need replacing. Sunlight and weather affect the horizontal exposed surfaces more than the substructure. Contractors that want to sell new construction often convince customers that total replacement is needed when the decking and handrail components are all that is wrong.
For a fraction of the cost of new construction we can refurbish your dock facility with new decking, handrail and edge bumper. With upgraded materials and our attention to detail, a refurbished dock often looks better than new construction. Minor structural repairs are often included in our proposals to assure that the refurbished dock will stand up to the elements.
Dock Roof Construction & Repair
Having a covered dock roof is a really nice feature for any boat slip or sitting area. A dock roof will protect you from harsh lake elements such as rain, sun, snow, and ice, but the roof itself still suffers from exposure to those elements. On top of the fact that weather-related wear and tear is inevitable over time, we have found that many covered dock roof designs are not particularly easy to live with; the roof is often too low and requires too much support to easily maneuver around your boat when parked in the slip.
Take a look at the gallery below to see what Dock Services LKN can do to make your dock, deck, walkways, boat slips, and even covered dock roofs look and perform as good as new without having to start over from scratch. Let us show you some of our nearby renovated projects.

Morgan and his team (John, Clinton, Aurelio, Chris) did an excellent job in evaluating, redesigning, and modifying the roof structure of my boathouse to accommodate the permanent arch on my boat and thus allowing the lift to raise my boat completely out of the water. The quality of the work was excellent and these guys are great to work with. They came up with a great solution at a reasonable cost without having to replace the roof.
– Paul L.

Morgan has just finished a dock for us. He knew what we wanted before we did. The whole project was a pleasure and his crew were not only courteous but a pleasure to witness. Hard working, great ethics and they never skipped a day until it was finished, even through the cold and rain. I have to say, we miss the boys and the banter. If you are considering a dock or repair, do yourself a favor and call Morgan. Thanks guys 🙂
– Simon W.

Great job! I would hire Dock Services again in a NY minute. They did a renovation on our three-slip dock. Project estimate was 6-7 weeks and they completed within the time scope of the project. As a construction project manager, I appreciated the attention to project schedule and quality control during the build. These guys are pros. They do it right. From proposal to punch list, Dock Services is on top of it.
As a homeowner, I appreciated the craftsmanship and attention to detail that Dock Services exhibited at every step of the project. They literally transformed our dock from tired and worn out to a dock that looked brand new.
Also, Dock Services runs a tight ship: they're clean, neat and hardworking. Easily one of the best contractors I have ever hired, bar none.
– Michael H.

Morgan and his crew exceeded expectations with very minimal guidance. They knew what they were doing, and completed a dock restoration that functions and looks much better than I imagined would be possible based on what they had to work with.
Morgan's crew was polite, professional, and respectful. The site was left cleaner than when they began. I wouldn't hesitate to recommend Dock Services to anyone, or use them again myself.
I recommend unconditionally.
– Jason W.

I talked to 3 dock builders and Morgan was hands down best dock design, construction and value. His crew was amazing. We enjoyed having them on our property every day. Highly recommend this firm.
– Martin R.

We could not have been more pleased with the outcome!
They began when they promised and never left the job until it was completed. They would not accept a deposit until they started the project. The craftsmanship and attention to detail this company delivers is amazing!
– Jack M.

This is our second dock build experience with Morgan and his team on Lake Norman. He and his crew are the very BEST in the dock building business!! We could not be happier. His big wave series docks are a must! If you want a high quality product done on time, correctly with no mess and full service. Morgan is the one and only to trust and hire in the Lake Norman area. Thank you once again Morgan!
– Steve V.